Astell Autoclaves
Astell Front Loading Compact Autoclaves – With or without AutoFill

Full Colour Touch Screen Controller
Ideal for Most laboratory applications, including Liquids (media), Discard, Glassware, Laboratory Instruments etc
Self contained – Water Fill is Manual into the Chamber
Manual fill into the reservoir lasting approx. 20 cycles (Autofill units only)
Included AS STANDARD

Full Colour Touch Screen Controller

5 Programs

Swiftlock

rapid access safety closure

Automatic Water Fill (

Autofill

units only)

Over temperature water cut out

Thermocouple entry port

No plumbing required

Low Water Indicator

Pulsed Heat Drying System

(

Autofill

units only)

Cool Lock Protection (fluid Cycles)

Reservoir Drain>

Automatic timed air purge system

Internal Water Reservoir / drainage bottle (

Autofill

units only)

Pressure gauge

Vent valve

Electro Polished Stainless Steel Pressure Vessel
Bottle Capacity
Models
Capacity
Chamber Diameter
Chamber Depth
External Dimensions
Range
30 Liters
350 mm 14"
360 mm 14.2"

520x540x780 mm (wxdxh)

20.5" x 21.25" x 30.7"

100 -138ºC

(0.2-2.4 bar)

40 Liters
350mm 14"
460mm 18"

520x780x540 mm (wxdxh)

20.5" x 30.7" x 21.25"

100 -138ºC

(0.2-2.4 bar)

60 Liters
350mm 14 "
660mm 26"

520x980x540 mm (wxdxh)

20.5" x 38.6" x 21.25"

100 -138ºC

(0.2-2.4 bar)
Click here for the Compact Autoclaves brochure

Power Requirements: Single phase + Neutral & Earth 230 volts, 13 Amps, 50/60Hz.
Approx Net Weight: 96Kg
Shipping Weight: 114Kg
Shipping Dimensions: 77x87 x 82cm (wxdxh) 30" x 34.25" x 32.25"
Astell Top Loading Compact Autoclave – With or Without AutoFill/Direct Steam
Full Colour Touch Screen Controller
Ideal for Most laboratory applications, including Liquids (media), Discard, Glassware, Laboratory Instruments etc
Self contained – Water Fill is Manual into the Chamber or
Manual fill into the reservoir lasting approx. 20 cycles (Autofill units only).
Included AS STANDARD

Full Colour Touch Screen Controller

5 Programs

Swiftlock rapid access safety closure

Automatic Water Fill (

Autofill

units only)

Over temperature water cut out

Thermocouple entry port

No plumbing required

Low Water Indicator

Pulsed Heat Drying System (

Autofill

units only)

Cool Lock Protection (fluid Cycles)

Reservoir Drain

Automatic timed air purge system

Internal Water Reservoir / drainage bottle (

Autofill

units only)

Pressure gauge

Vent valve

Electro Polished Stainless Steel Pressure Vessel
Models
Capacity
Chamber Size
Depth
External Size
Range
60 Liters
350mm 18"

640mm

25.2"

530x700x1040mm (wxdxh)

21" x 27.6" x 41"

100 -138ºC

(0.2-2.4 bar)

90 Liters
350mm 18"

448mm

17.6"

660x840x940 mm (wxdxh)

26" x 33" x 37"

100 -138ºC

(0.2-2.4 bar)

110 Liters
350mm 18"

588mm

23"

660x840x1070 mm (wxdxh)

26" x 33" x 42"

100 -138ºC

(0.2-2.4 bar)

130 Liters
350mm 18"

680 mm

26.8"

660x1150x1200 mm (wxhxd)

26" x 45.25" x 47.25"

100 -138ºC

(0.2-2.4 bar)
Power Requirements: Single phase + Neutral & Earth 230 volts, 13 Amps, 50/60Hz.
Approx Net Weight: 130Kg
Shipping Weight: 147Kg
Shipping Dimensions: 87 x 65 x 138cm (wxdxh) 34.25" x 25.6 " x 54.33 "
Astell Autoclave - Front Loading SwiftLocks with or without Integral Steam Generation



Astell Duaclave
The Duaclave features two identical chambers, one directly above the other. Combining two units within one frame, the two chambers operate completely independently and are controlled using two separate PLC Controlled Fully Programmable full Colour Touch Screen Controllers, as fitted to all Astell products. For example whilst one chamber may be processing fluids, the other can either sitting idle or perhaps completing a discard load.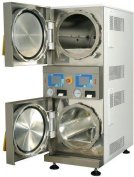 General Features of Astell Sterilizers:
General Options:

Single or Double, Door Autoclave
Vertical or Sideways Sliding,
Manual or Automatic
With Vacuum
Option of Direct Steam or Integral Steam Generator


SERVICES REQUIRED
Water: DN15 20 Litres per min
Power: 415v 3ph N 4 – 100 kW depending on
requirements
Steam: Direct or from Generator
Drainage: DN 54 Floor level
Vent: DN 35 Outside X 2
Blowdown See Quotation
Compressed Air Oil Free 150 lt/min peak.
(See AAQ500 if not available on site) 6bar. 15mm


MATERIALS
Vessel/Chamber 316L Stainless Steel

Jacket Full St/Steel

Door 316L Stainless Steel

Header Ring Mild steel / boiler plate

Stand Zinc coated Mild Steel

LOGICOLOR Touch Screen Controller

CONTROLLER HARDWARE

Display: 5.7 Inch Colour QVGA Touch Screen

Input: Touch Screen

Program storage: Flash Card

Real time clock: Battery Backed

Memory: 64 MB DRAM / 256 KB SRAM

Serial Interface: RS232

A/D: 13 bit

Digital inputs: 32

Digital outputs: 32

Analogue Inputs: 4

CONTROLLER SOFTWARE

Language Basic

Key and password security system (multi levels )

Easy cycle construction using individual stages.

Multi Level User / Supervisor / Engineer Interface

RS232

Click here for the Square Section brochure

Click here for the E Range Section brochure
Astell sterilizers are designed to comply with the following standards:
CE - Indicates to customers that the product meets designated minimum safety standards and therefore a minimum level of quality
ASME - American Society of Mechanical Engineers
Astell sterilizers have not been approved by these standards yet:
FDA - 510K
UL - Underwriters Laboratories Inc
Here is a short video explaining Astell Autoclaves and sterilizers products.

This video was recorded at the Achema 2012 exhibition held once every three years in Frankfirt, Germany.
For assistance call 1- 800-801-9934 and ask for
Andrea, Renata, Ed, Shlomo, or Chuck

Contact Us