F9 is high-end fetal & maternal monitor, it offers the most advanced integrated monitoring for the delivery room in big hospital;private obstetrician's office;antepartum clinic. F9 are designed for moving situation covers the entire continuum of antepartum, intrapartum and postpartum applications.
Features:
Basic parameters: FHR, TOCO, Event Mark, AFM
Standard Dual FHR monitoring
Internal parameters: IUP, DECG (optional)
24 hours waveforms playback
Optional Built-in wireless module
Software for data transmission to PC
150/152mm wide paper
Support American/International standard paper
1, 2, or 3cm/min real-time printing speeds
Quick printing for stored waveform
Lithium battery for 4 hours continuous working
12.1- inch high resolution color folding up LCD screen
Probe rack and wall mounting rack
Handle for easy carry
Optional Fetal Stimulator
12 - crystal pulse wave Doppler waterproof transducer for FHR detection
Signals Overlap Verification
Maternal parameters: MECG, NIBP, MSpO2 are available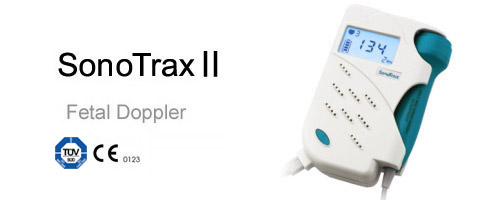 Click Here To Buy

Ultrasonic Pocket Doppler Sonotrax II Series can meet the routine examination requirements of obstetricians, midwives and pregnant woman themselves. Sonotrax II is a high performance model with FHR digital LCD display with backlight. Sonotrax II Pro has audio playback. All these models have audio output, which can be connected with earphone or recorder. As well, you can operate the unit with 4MHz or 8MHz probe for vascular diagnose.
Features:
Ergonomic design, compact and light
Easy-to-use
Large backlight LCD display
Accurate FHR detection with clear sound
High sensitivity interchangeable probe
Support 2MHZ,3MHZ,4MHZ,8MHZ waterproof probes
Automatic and manual FHR Counting
Long time continuous use(about 8h)
Automatic power-off
Build-in rechargeable poly-lithium battery and AC recharger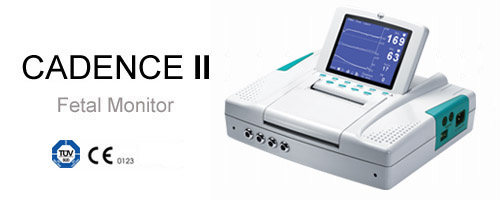 Click Here To Buy

Cadence II is a lightweight, space-saving fetal monitor. The external and internal monitoring parameters ensure it can be used up to and during the second stage labor. It also can be connected to the MFM-CNS obstetrical central station to construct central monitoring system.
Features:
Lightweight, space-saving, easy operation
Folding up 5.7 - inch screen
Built-in long life thermal printer
Multi-crystal high sensitive watertight probe
12 hours waveforms playback
Signals Overlap Verification
Wide range of applying voltage (100-250V)
Optional Dual FHR monitoring
Automatic Fetal Movement Detection
Built-in network/PC connecting interface
Insight software for data recording and displaying on a standard PC
Optional rechargeable Lithium battery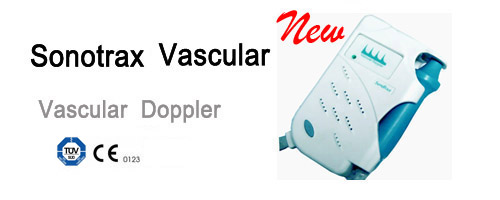 Click Here To Buy
The hand-held Doppler has been widely adopted as standard equipment for the assessment of peripheral vascular disease. The versatile, inexpensive and portable equipment allows the fast and simple but effective assessment of both arterial and venous disease. Besides, it helps physicians to diagnose some diseases, such as lower limb and foot ulceration in both diabetics and non-diabetics alike.Sonotrax Vascular offers a traditional pencil-style 4MHz or 8MHz probe. It can locate both superficial and deep vessels faster and provides stronger signals.
Features:
Ergonomic design, compact and light
Easy-to-use
Accurate detection with clear sound
High sensitivity interchangeable probe
Support 4MHZ,8MHZ waterproof probes
Long time continuous use (about 8h)
Automatic power-off


For assistance call 1- 800-801-9934 and ask for
Andrea, Renata, Ed, Shlomo, or Chuck

Contact Us