| | | |
| --- | --- | --- |
| | HIRAYAMA INCUBATOR SHAKERS | |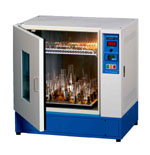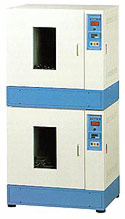 Hirayama's GYROMAX™ orbital shakers incorporate design features that offer quiet, maintenance-free shaking under a constant and reproducible temperature environment. Ten different models that can meet the needs of most biological research laboratories for shaking under a precisely controlled temperature environment are available in four basic housing configurations:

FEATURES:
• Microprocessor-controlled
• Maximum temperature to 80°C
• Triple eccentric drive for long life and smooth, quiet operation
• Maintenance-free brushless motor
• Adjustable shelf for simultaneous incubation with and without shaking
• Can handle flasks to 6 liters
• Stainless steel chamber
• Two units can be stacked to save space (models 727, 737/737R, and 747/747R only)



ACCESSORIES:
Optional accessories include platforms, clamps, full and custom spring racks, microtiter plate holders and additional shelves. Platform holes are drilled to accommodate the different clamps purchased. Spring racks are designed for holding tubes in a horizontal, angled, or upright position. They can also be used to hold flasks up to 1-liter without clamps. The racks consists of a 2-tiered grid of stainless steel springs. The distance between the two grids is adjustable so as to accommodate tubes and flasks of different heights. The spring racks are fastened onto the platform by four screws. Custom spring racks (photo above) allow for a combination of large flasks, microtiter plates and tubes on a given platform.
| | | |
| --- | --- | --- |
| | INCUBATOR SHAKERS (unless stated platform not included) (top) | |
| | |
| --- | --- |
| Item# | Description |
| SK-727 | Incubator shaker, model 727, 80 deg. C max |
| SK-737 | Incubator shaker, model 737, 80 deg. C max |
| SK-737R | Incubator shaker, model 737R, refig. 80 deg. C max |
| SK-747 | Incubator shaker, model 747, 80 deg. C max |
| SK-747R | Incubator shaker, model 747, refig. 80 deg. C max |
| SK-757 | Incubator shaker, model 757, 70 deg. C max |
| SK-767 | Incubator shaker, model 767, 80 deg. C max |
| SK-767R | Incubator shaker, model 767R, refig. 80 deg. C max |
| SK-777 | Incubator shaker, model 777, 80 deg. C max |
| SK-777R | Incubator shaker, model 777R, refig. 80 deg. C max |
For assistance call 1- 800-801-9934 and ask for
Andrea, Renata, Ed, Shlomo, or Chuck

Contact Us