| | | |
| --- | --- | --- |
| | HIRAYAMA WATER BATH SHAKERS | |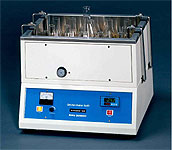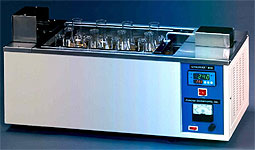 Hirayama's GYROMAX™ orbital and reciprocating water bath shakers incorporate design features that offer quiet, maintenance-free shaking under a precisely controlled and reproducible temperature environment.

GYROMAX™ 929 is an orbital shaker with a 38-liter bath. Its 19.0"W x 12.5"D platform is larger than any in the marketplace and can accommodate fifteen 250-mL flasks. The platform assembly includes baffle for efficient water mixing.

GYROMAX™ 939 and 939XL are reciprocating bath shakers. The shaking speed and shaking stroke are both adjustable. Model 939 has a 39-liter bath with a 15.7"W x 11.8"D platform. Model 939XL is larger, and features a 54-liter bath with a 24.4"W x 11.8"D platform for greater throughput. Each shaker incorporates a circulating pump to ensure optimum mixing and temperature uniformity.
FEATURES:

• Microprocessor-controlled
• Stainless steel bath
• Maximum temperature to 100°C
• Maintenance-free brushless motor
• Can handle flasks up to 2 liters
SPECIFICATIONS: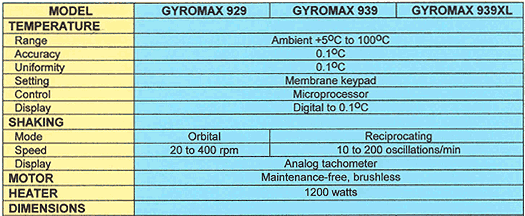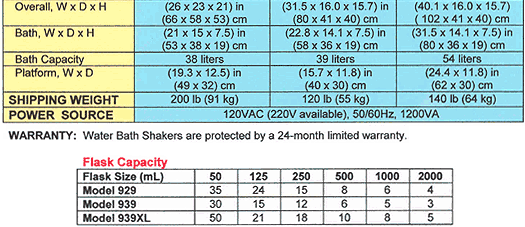 ACCESSORIES:
Optional accessories include clamps, stainless steel and acrylic gable covers, spring racks, platforms (standard in GYROMAX 939 and 939XL) and cooling coils for piping in circulating cold water into the bath. The spring rack mounts on the platform, and consists of a 2-tiered grid of stainless steel springs attached to holes on opposite sides of the rack. It is used to hold flasks up to 1-liter without the need for clamps and for holding tubes of various diameters and heights in a horizontal, an angled, or an upright position.
| | |
| --- | --- |
| Item# | Description |
| WB-20C | Water bath, model WB20C, 100 deg. C max |
| 20C-GCS | Gable cover for WB20C, stainless steel |
| | |
| --- | --- |
| Item# | Description |
| SK-929 | Orbital water bath shaker, model 929 |
| SK-939 | Reciprocating bath shaker, model 939, w/platform |
| SK-939XL | Reciprocating bath shaker, model 939XL, w/platform |
For assistance call 1- 800-801-9934 and ask for
Andrea, Renata, Ed, Shlomo, or Chuck

Contact Us